Snow is developing this morning and will turn to rain later today, turning to windy as well
It will be dry tomorrow, but it's still very windy…
Today: snow to rain, windy. Hi 40. Wind: SE 15-25 mph. Gusts of up to 40 mph.
Tonight: Rain ends, slight clearing. Lo 35. Wind: SW 10-20 mph. Gusts of up to 30 miles per hour.
Thursday: Mostly cloudy, windy. Hi 42. Wind: West 20-30 mph. Gusts of up to 50 miles per hour.
Today's shout out message is: There won't be much snow in most of the viewing area. However, a window of a few hours in the late morning and early afternoon can provide challenging travel with a fast rush of snow reducing visibility and making some roads slick. The snow will turn to rain this afternoon as the temperatures rise, making for a wet evening and it will be very windy later today as well. Let's break it down:
School, closures and delays in the community
There is an area of ​​low pressure heading north today, picking up some Gulf moisture from the south and heading towards ours. The cold air still lacks this pattern, so we don't expect a major snow event. However, there will be a period of steady snowfall, with the meat of the storm coming in the late morning and early afternoon. The snow will take some time to develop as it overcomes the remnants of the dry air from yesterday. You should start between 7-10 am as temperatures hover around 32 degrees or just below. It will rise and be more stable over the 10am to 1pm timeframe today before the warm air clears out and changes the snow to normal rain this afternoon. Areas south of the barrier will see the least snow, with up to an inch of coating towards York and Lancaster. The most snow with this system is expected to fall northwest of Harrisburg where over 3°C can occur. Warmer air will race in after 2 p.m., changing the snow to rain and making for a damp evening ride. It will turn into a severe storm later today as well as the storm begins to withdraw. Winds can gust close to 40 mph heading into the evening. Again, the midday hours seem to be the worst to travel with 1-3″ of snow today for most people.
Behind Wednesday's storm, the weather has calmed down until the end of the week. However, it will remain windy tomorrow, with gusts near 50 mph. Keep that in mind even as the area dries up after today's storm. Temperatures are expected to rise again this weekend with Saturday highs in the upper 40s! The upcoming front could bring us some rain late Sunday into Monday morning, followed by another cold snap as we head into earlyebruary. There is some hope for winter fans moving forward, but nothing major yet!
Meteorologist Brett Thakkara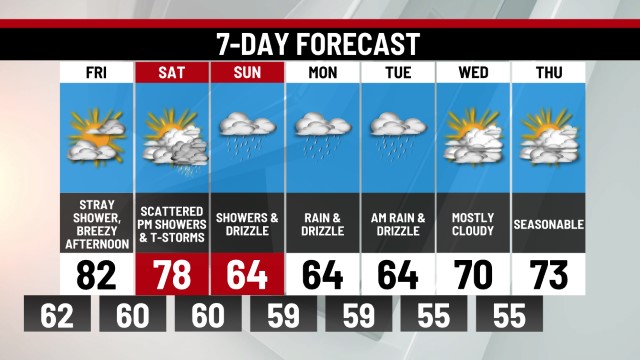 https://www.abc27.com/weather/forecast/snow-develops-this-morning-and-will-change-to-rain-later-today-turning-windy-too/